JBS Strengthens Global Support through Partnership with Crayon
Strengthened licensing and global help desk services to Japanese global companies, focusing on Microsoft products
(Tokyo, Japan) — Japan Business Systems, Inc. (Head Office: Minato-ku, Tokyo; Representative: Yukihiro Makita, President & CEO; hereinafter "JBS") a leading technology solutions provider, and Crayon Group AS (OSE: CRAYN), a global leader in IT services and innovation, today announced the signing of a strategic partnership. The main focus of this formalized partnership is to offer Japanese global companies the ability to purchase Microsoft licenses and help desk support anywhere in the world, and this agreement will bring additional value to their IT investments. This enables companies to promote IT controlled by the headquarters, reduce procurement costs through comprehensive license agreements, and strengthen governance.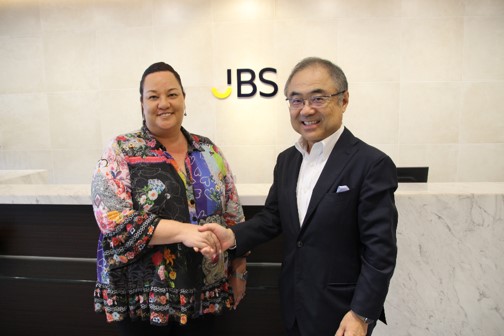 [photo:Rhonda Robati, EVP Asia Pacific at Crayon and Makita, President & CEO at JBS ]
JBS is one of Japan's leading Microsoft partners with over 20 years of experience in the Microsoft business and has provided IT support to Japanese global companies through its four overseas offices. In recent years, as Japanese companies have expanded overseas, the need for Microsoft license procurement and services at global locations has increased. Through this strategic business alliance with Crayon, one of the world's leading Microsoft partners with Microsoft operations in 46 countries around the world, we will strengthen our support system for Japanese global companies.
Through the partnership between JBS and Crayon, customers will be able to use Crayon's "Software Cost Optimization Solution" through JBS, along with expanded software license procurement and global helpdesk services (multi-language, 24/365) focusing on Microsoft products. The two companies will further promote collaboration and service expansion in the areas of AI and security mainly for Microsoft products, leveraging the strengths of both companies, and contribute to customers' DX promotion.
"We are very pleased to announce our global business partnership with Crayon, one of the top 10 leading Microsoft partners in the world," said Yukihiro Makita, JBS President & CEO. "By leveraging Crayon's global business expertise and offices around the world, JBS has established a foundation to better serve Japanese global companies. We will take this opportunity to further contribute to the development of customers' business."
"I have deep respect and admiration for JBS and believe we have a common business approach to customers," said Crayon CEO Melissa Mulholland. "We are both committed to helping companies maximize cloud-based services and innovating to enable global success. In addition, JBS's Mission of 'bringing the best technology to everyone, everywhere' aligns with our belief in 'the power of technology to drive the greater good.' Our companies are very synergistic and I'm looking forward to helping more businesses grow through this global partnership"
"As Japanese businesses extend their reach, the demand for Microsoft licenses and services has surged. Covering 80% of the global market with more than 50 offices in over 40 countries, Crayon is uniquely positioned to support companies in their worldwide operations and aspirations," said Rhonda Robati, EVP Asia Pacific at Crayon. "We see the Japanese market as a key growth opportunity and as we strengthen our partnership with JBS, we will continue to invest to enhance both our offering to end customers and our partner base."
Microsoft Japan gave us the following endorsement for this announcement.
"I would like to extend a hearty welcome to JBS and Crayon on this wonderful partnership," said Yasushi Kimura, Business Executive Officer, Global Solutions, Enterprise Partner Lead at Microsoft Japan Co., Ltd. "Crayon is a global leader in the deployment of cloud products, and we believe that the partnership with JBS, which handles a wide variety of Microsoft products, will further contribute to our customers' business growth by providing close support to Japanese global companies. In addition to supporting cloud utilization, the use of AI technology is becoming increasingly important. We expect this partnership will contribute not only to digital transformation, but also to the realization of an environment that enables customers to achieve "AI transformation" by integrating AI technology into their business processes. Microsoft Japan will continue to support business innovation with long-time partners JBS and Crayon, who have a proven track record in handling large-scale licensing and support."
Yasushi Kimura
Business Executive Officer
Global Partner Solutions
Enterprise Partner Lead
Microsoft Japan Co., Ltd.
Through strong collaboration with Crayon, Microsoft, and other partners, JBS will continue to strive to be an entity that can contribute to the sustainable growth of companies and society brought about by technological innovation.
Any company names, logos, and product names mentioned are the registered trademarks or trademarks of their respective companies.
All details in this press release are as of the date of the creation of this press release and may change without notice. The service may change in part or in its entirety, be cancelled, or become unimplementable due to various reasons.